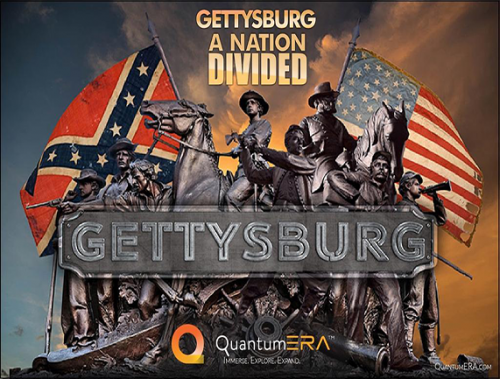 https://apps.apple.com/us/app/gettysburg-a-nation-divided/id1495662839
Source
QuantumERA & Perspectives XR
Subject (s)
History-U.S.,
History-State & Local-Pennsylvania,
Platform(s)
iPhone,
iPad,
New iPod Touch,
Get ready to excite and amaze your students!
We know the current "virtual learning" process has created new challenges for educators, so we're thrilled to let you know about a fantastic FREE way to get your students excited about learning!
Our Immersive Technology partner, QuantumERA™, is offering FREE downloads of their new AR360 app, Gettysburg: A Nation Divided, for teachers and students, for a limited time.
Have your kids download the app on their iPads or iPhones, and let them immerse themselves in history! There are fun experiences at every turn - artifact scavenger hunts, AR360 experiences, and yes, even Abraham Lincoln who comes to life and recites the Gettysburg address. All along the way your students will be having fun...and learning!
PerspectivesXR is proud to be a part of this effort. Click above or the App Store icon to the right for a brief registration form and FREE access to the app, activities, instructional videos, and other immersive Civil War resources from Perspectives XR! Once you complete the brief registration form, you should receive a confirmation email within minutes, be sure to check your SPAM box if you don't see it.
Get ready for a fascinating adventure!
Zoom Webinar Schedule:
Thursday, April 9, 2020, 4:00 P.M. Central Time - Basic Controls and Key Features

Tuesday, April 14, 2020, 4:00 P.M. Central Time - Accessing and Viewing Historical Video Footage

Thursday, April 16, 2020, 4:00 P.M. Central Time - Accessing and Utilizing Artifacts

Tuesday, April 21, 2020, 4:00 P.M. Central Time - Accessing and Utilizing Personal Accounts or "Avatars"

Thursday, April 23, 2020, 4:00 P.M. Central Time - Accessing and Utilizing the Gaming Elements, Glossary, and Other Features